September 11
th
, 12
th
, 13
th
and 14
th
, 2012

Palais des Congrès
20180 Ajaccio, Corsica Island, France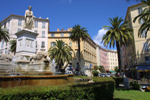 Photonic in Switching Conference welcomes you to Ajaccio-Corsica, France in 2012 !!

This conference addresses devices, systems, and networks which drive the design of promising future telecommunication and computing systems and networks. In 2012, the Photonics
in Switching conference will include a forum called Telecom & Energy and a symposium on Photonics in Data Centers and Computing.

About Corsica and Ajaccio:

The Corsica Island called also "beauty Island" is located at 200 km from the south coasts of France. Ajaccio is the capital of the South part of the Corsica, and has more than 60 000 habitants. With kilometers of white sand beaches and a temperature of the sea particularly warm in summer, Ajaccio is one of most popular turistic city in France.

About the Palais des Congrès:
The Palais des Congrès of Ajaccio benefits from an ideal geographical situation.
At only ten minutes of the international airport, it is right in the heart of the city, between the sea and the mountain, around the commercial port and the sailor and main trading avenues.
Opened since March, 2003, this Palais des Congrès has authority to promote and to value the economic and tourist potential of the island of Beauty. It welcomes thus various types of demonstrations: congresses, events, seminars, shows, exhibitions, etc.
The rationality of its spatial layout allows to be functional for at once commercial and cultural activities.
It is endowed with an auditorium of 450 seats, several multi-purpose rooms, an exhibition hall of 1.000 m2 and a panoramic terrace, the whole opened by wide plate glass windows giving to see the sea or the city.