» ETTC 2005
» 7 - 9 June 2005 - Toulouse, France
Welcome to ETTC 2005 in Toulouse (France)
7 - 9 June 2005
ETTC 2005 will be held at the Pierre Baudis Convention Center in Toulouse.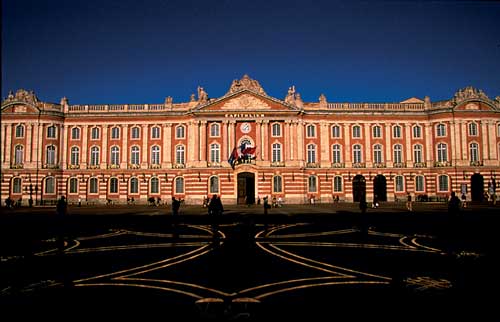 The Capitole building, one of Toulouse's most famous monuments.
The AAAF and SEE societies welcome all delegates and exhibitors to the forthcoming edition of ETTC. This will be held from 7 to 9 June 2005 at Pierre Baudis Convention Center in Toulouse, where the successful ETTC 2003 took place. This new edition of ETTC will provide the opportunity for scientists and engineers to report and discuss the latest developments in testing methods, especially for aeronautics and space systems. Specific attention will be paid to environmental aspects. A special session will be organised by the International Consortium for Telemetry Spectrum.